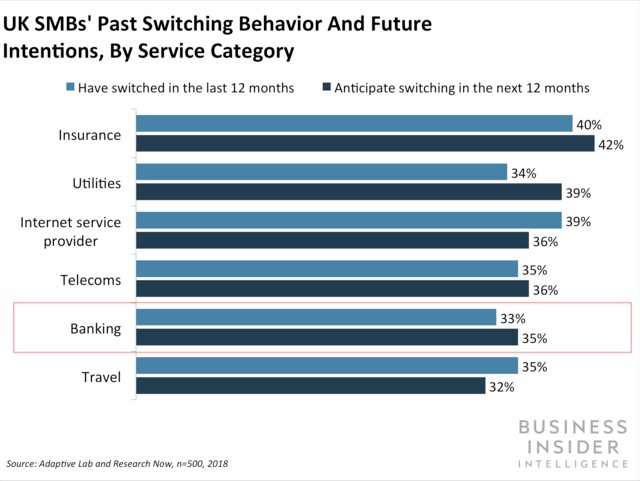 To receive the full story plus other insights each morning, click here .
Earlier this week, the Banking Competition Remedies (BCR) announced which banks were awarded funding in the latest round of RBS' 775 million ($1 billion) grant, which was mandated by the EU as a condition of RBS' financial crisis-era bailout.
Business Insider Intelligence
UK SMBs' past switching behavior and future intentions, by service category
The winners of this round were Nationwide, which secured 50 million ($65 million), Co-op Bank, and Investec, which received 15 million ($19 million) each, according to the Financial Times. The winners of the first round were announced in February , when Metro Bank, Starling, and Tide collectively secured 280 million ($361 million).
Here's what it means: Fintechs missed out on the latest round of the fund, which could hamper their plans for small- and medium-sized business (SMB) offerings.
The BCR's selection process has previously come under criticism.Nicky Morgan, MP, chair of Parliament's Treasury Committee, has questioned why Metro Bank received a top prize after it was unveiled that it had suffered a 900 million ($1.2 billion) accounting error. It was later announced that Metro Bank would decelerate its growth plans and was being investigated by regulators, further increasing scrutiny.
Monzo, one of the applicants for the fund, will now probably have to slow down its business banking push.The neobank said in November last year that it was exploring offering accounts for businesses, and was applying for a piece of RBS' Capability and Innovation Fund. However, it also said that it would only build business accounts in the near future if its application was successful, as it doesn't want to be distracted from improving and enhancing its personal account offering. While Monzo still wants to create a financial control center for SMBs, per the Financial News, it will likely be a longer project now.
The bigger picture: Selected banks can now up their SMB game with the funding's help, which could make the space more difficult to enter for new challengers.
SMBs in the UK are underserved by big banks, but new funding could enable incumbents to enhance these services and double down on their SMB efforts.There are 5.7 million SMBs in the UK, meaning that there's high demand for services tailored to them; 59% of UK SMBs see little tailoring toward their business needs from banks, according to a study from Adaptive Lab .
BCR's new focus on providing incumbent banks with funding could be a setback for some fintechs that were hoping to gain more SMB customers or set up an SMB business with the help of the fund. Additionally, if banking giants like Nationwide up their SMB game it aims to boost business banking competition with modernized existing account offerings it could become increasingly difficult for challengers to enter the space and establish themselves.
Interested in getting the full story? Here are two ways to get access:
1. Sign up for the Fintech Briefing to get it delivered to your inbox 6x a week. >>
2. Subscribe to a Premium pass to Business Insider Intelligence and gain immediate access to the Fintech Briefing, plus more than 250 other expertly researched reports. As an added bonus, you'll also gain access to all future reports and daily newsletters to ensure you stay ahead of the curve and benefit personally and professionally. >>
See Also: